We encourage plant-based food companies to develop sources of sustainably grown ingredients, whenever possible.
Currently, 90% of U.S. plant-based foods companies use one or more ingredients made from crops grown outside the U.S., and severe disruptions of global supply chains have impacted the ability of these companies to reliably scale their businesses.
That's where the SSI comes in. With a focus on commodity and specialty crops, emerging crops in development, and regionally grown crops, we work across our agricultural networks to bring together visionary plant-based foods companies with North American growers and processors to shorten supply chains and encourage the adoption of sustainable, regenerative practices.
Benefits of Sustainable Sourcing
Sustainable sourcing brings more economic opportunity to farmers and rural communities by diversifying on-farm production and opening them to new markets.
A wider range of crops and markets means more diverse crop rotations, which promotes soil health.
Shorter supply chains have a smaller carbon footprint and are more resilient than long, fragile global supply chains.
Reducing input costs of fuel, labor, and chemicals through regenerative practices not only improves economic viability and sustainability, but also ensures that farms can continue to profitably produce a safe food supply for a growing population.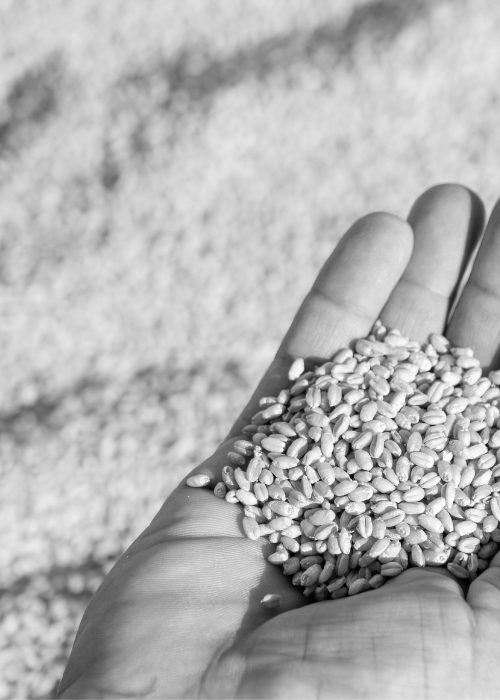 Prioritizing Regenerative Agricultural Practices
We work with North American farmers to encourage the implementation of sustainable, regenerative agricultural practices—critical stepping stone towards a sustainable food future—including:
Improving soil quality by reducing the amount of tillage, which increases organic matter, earthworm activity, and yield potential.
Improving water quality through reduced soil disturbance, soil erosion, nutrient runoff into surface waters, and by implementing buffer strips along waterways.
Improving air quality by keeping living plants in the field year-round—including cash crops, cover crops, and pollinator strips—to avoid wind erosion, and reducing fuel emissions from equipment.
Improving biodiversity by providing more sources of food and cover that enrich wildlife and fish habitats.
Conserving energy and reducing carbon footprint with reduced tillage and fewer fertilizer and pesticide applications—which, through the decrease in passes in the field, results in a significant reduction in fossil fuel usage—and sequestering carbon in the soil by increasing soil organic matter.